"Mama, I want a Frozen white cake." Okay. That stunned me for a while. First because my daughter love anything but chocolates. So I thought she would want a cake that is chocolate. Where did my daughter got the idea of that? Yes, my 2 girls definitely love Queen Elsa and Princess Anna and Olaf and the rest of the cast. But it never entered into my mind that my eldest daughter who turned 4 last week would ever suggest on her preference for a birthday cake. Thank God the creative and thrift mind in me works spontaneously the moment she said it. I immediately thought of what to do. For the birthday cake, I only have Bistro Rosario to trust for for this particular requested cake. They have this so called 'Birthday cake' that is covered with white frosting/icing and inside are layers of creamy and buttery filling. It is a '9 x 12' cake for only P750.00 pesos. You can actually request to add up colors of the icing of your preference without a cost. I requested to
add pink and blue hues to the icing.
If you want a chocolate cake and filling inside, just add up P400.00. Mine I sticked to the chiffon cake and butter filling inside. I love this cake of Bistro Rosario because it has mild sweetness. I love it more when it's chilled because the filling is apparent in the first bite and I can savor more the buttery filling inside.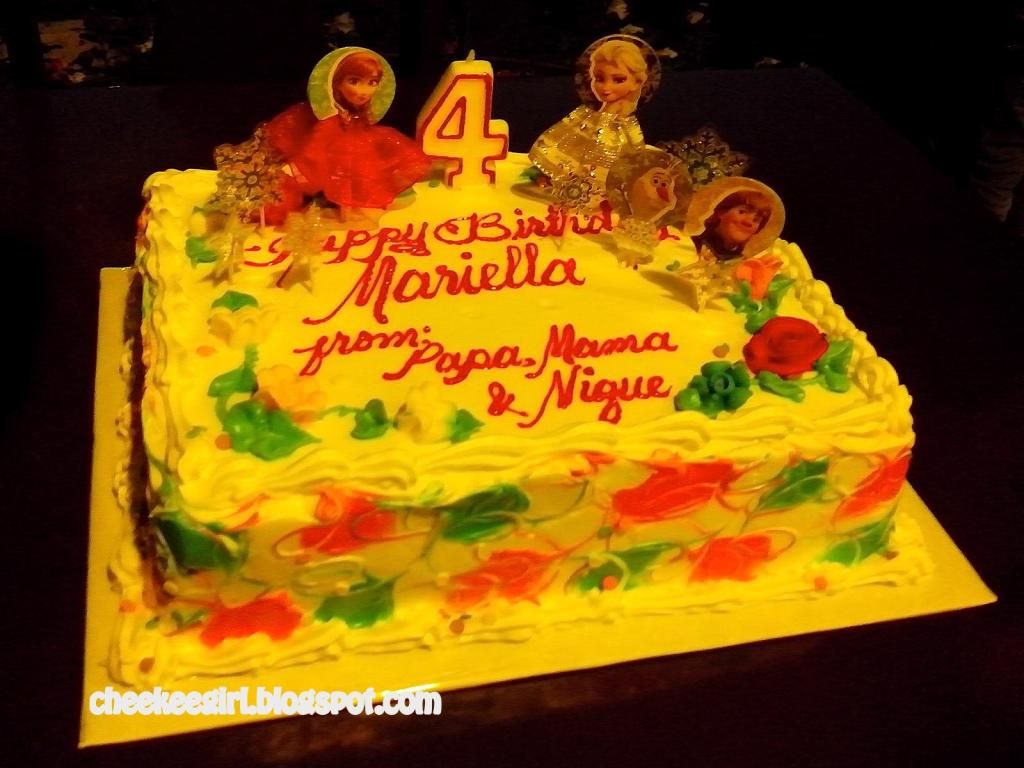 And for the Frozen characters, I know it can be expensive to buy each piece of miniature characters. So I thought of pop up board paper of those characters which I think is available in school supplies. Glad my mother found it and she made it herself as I requested.
If you can't see clearly how my mom did it in the above photo, I just told her to stick the board paper character photo in a barbecue stick/popsicle stick/tooth pick what ever is available and we'll just root it on the top of the cake. Not only are the popular characters were there but it also has snow icicles to match its theme. Having a meticulous mom, she even put laces on Queen Elsa and Princess Anna as their gowns/clothes to match. Very creative mom!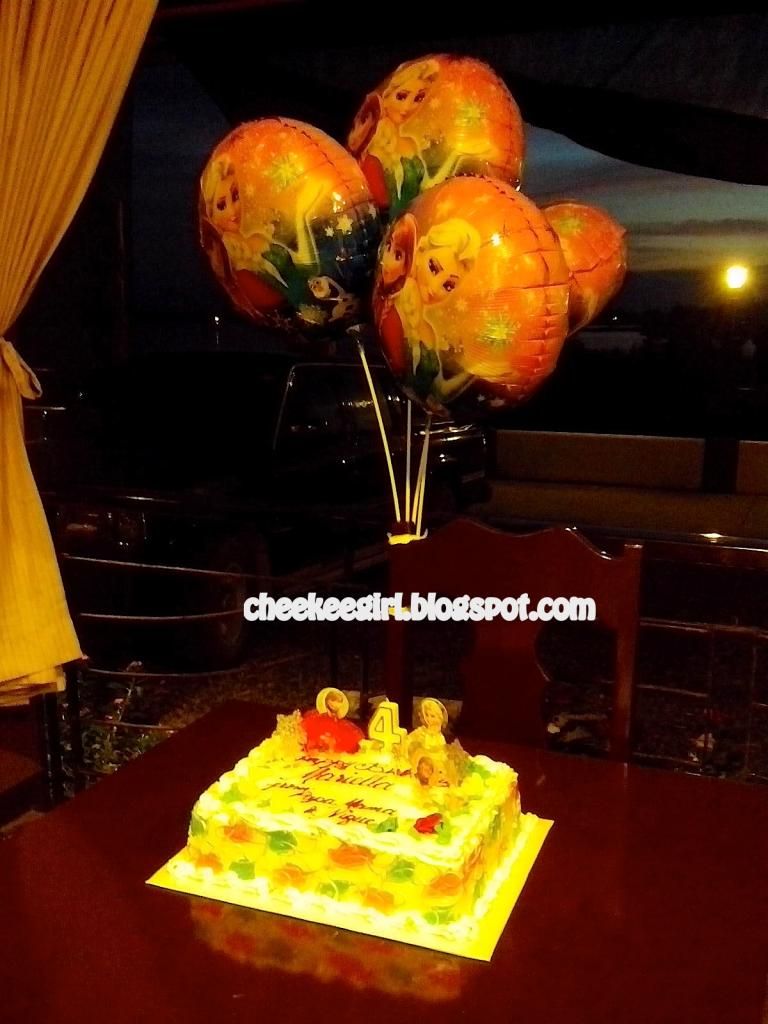 'Frozen' balloons which we bought for 45.00 pesos a piece.
I'm glad I saw it! It matched the whole 'Frozen' experience.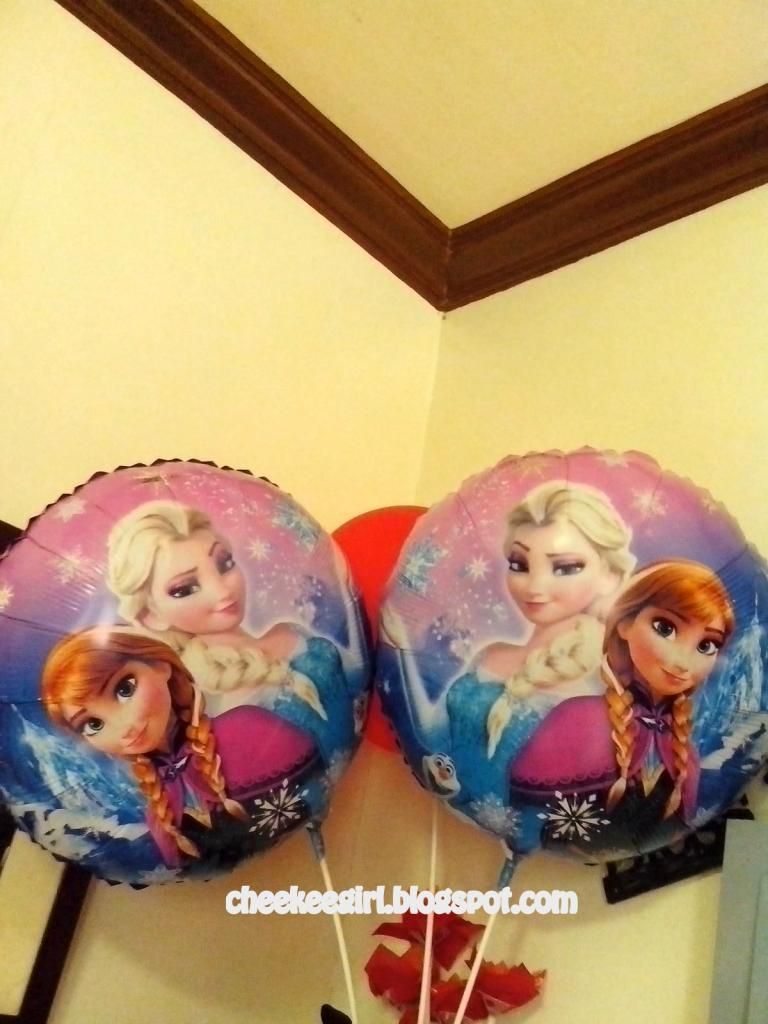 The closer look of the 'Frozen' balloons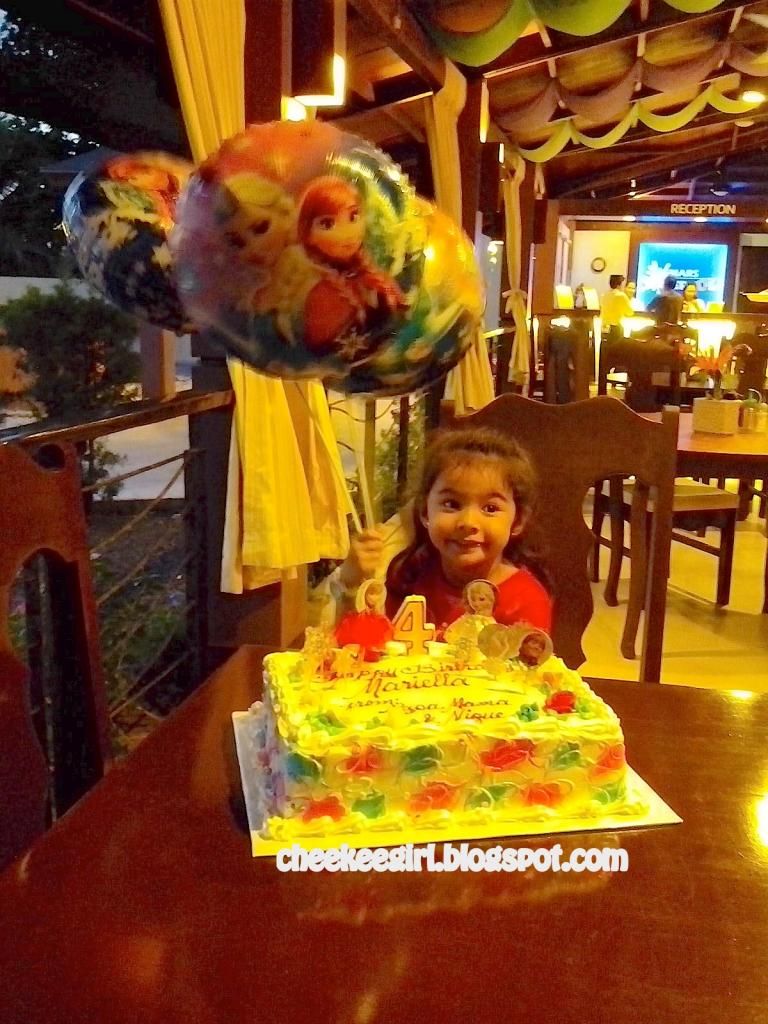 The happy birthday celebrator. Thank you God for the gift of life
to our darling Mariella. May you bless her always with
wellness of being (physical,emotional, mental and
spiritual).
May she grow up knowing you, loving you and acknowledging you
as our Savior and Father above all things. In Jesus name, we pray,
AMEN.